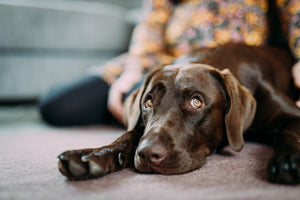 IS YOUR DOG
SCARED OF LOUD NOISES?
Then our sound desensitization program is for you
MENTAL STIMULATION IS IMPORTANT FOR YOUR DOG'S WELLBEING
Do you sometimes worry that your furry family members do not get the daily mental stimulation they need? Studies show that boredom can have a serious impact on the well-being of our dogs. Dogs who experience boredom regularly have a higher chance of becoming sick and developing mental health issues, which can result in a decreased life expectancy.
GO DOGO - THE TECH-BASED MENTAL STIMULATION GAME
Go Dogo is an intelligent and interactive game for dogs, which helps you to include mental stimulation in your dog's day. It lets your dog earn treats by solving challenges in the game. Go Dogo is based on the concept that dogs love to work for their food and learn best through positive reinforcement - one treat at a time.
BUY NOW
KEY FEATURES
Intelligent
Recognises your dog's posture and rewards reliably for each challenge solved
Avoid boredom
Helps you to give your dog daily mental stimulation
Endless fun
OTA (over-the-air) updates, so the challenges stay fun and mentally stimulating
Interactive
Your dog gets feedback when a task is performed correctly 
Progress tracking
Our app lets you track your dog's progress and schedule sessions for when you're not home
No-touch
No loose parts or exposed cables for your dog to chew up
DON'T TAKE OUR WORD FOR IT!
Go Dogo is the mental stimulation solution you were looking for! But don't take our word for it... Watch Babette and Isabella talk about what changed since their dogs, Kida and Manse respectively, started playing Go Dogo.
We have a very energetic 6 month old Golden Retriever puppy.

Twice a day we load our Go-Dogo egg with 20 treats and turn on the game. The system has a camera on the treat dispenser which sits above the TV and a side camera to capture our puppy's response to commands. I can't begin to tell you how excited he is every time he hears the hosts voice and the initial chime. He has learned to go to the TV and wait for a command.

Read full review here.
Manse loves to play Go Dogo!

He quickly understood what he had to do to get treats. Whenever we got to a new challenge in the game, he eagerly tried different things, until he found out what would release the treat. When I turned off the TV, Manse kept looking at Go Dogo, hoping that I would start another game for him. The best thing about Go Dogo is to see how focused and happy Manse is while playing the game. We love seeing his happy face and his wagging tail whenever we start a Go Dogo workout.
Daily mental stimulation is one of the most important things you can give to your dog.

Just like humans, dogs not only need daily physical exercise but also a chance to use their brain. Studies have shown that by providing daily mental stimulation for your dog you decrease the risk of developing problem behaviours such as reactivity, separation anxiety as well as destructive behaviours caused by boredom. This is why I strongly recommend Go Dogo as a daily helper in providing the mental stimulation your dog needs.
Kida and I are really happy about Go Dogo.

It's helpful and fun for both of us. As a full-time student, my days are often filled with reading and writing papers. On those busy days, it's a huge help to start a Go Dogo session for Kida while I am studying. Kida has fun and gets a good mental workout while I can take care of the things I have to get done. It's an extra bonus to see how happy Kida is about the game, she simply doesn't want to stop once she's started.
Follow us online
Our office dogs have taken over Social Media!
Follow us on Instagram for tips on mental stimulation and Go Dogo updates, with a pinch of goofiness.